HAPPY NEW YEAR :) Hope everyone had a fabulous New Year's Eve - safe and happy! First post of two today - last night I spent the night at my cuzzo and Dollface's house with the Carney crew and friends!! My Peanut was there too!! My midnight kiss came from her! Awesome start to 2013! This morning I started my day with fabulous Paleo pancakes...yes...it happened!
Got the recipe from
Elena's Pantry
-- her
Silver Dollar Pancakes
3 large eggs
1 tablespoon water
1 tablespoon vanilla extract
2 tablespoons honey
1 ½ cups blanched almond flour
¼ teaspoon salt
¼ teaspoon baking soda
coconut oil, for cooking
In a large bowl whisk together eggs, water, vanilla and agave
Add almond flour, salt and baking soda and mix until thoroughly combined
Heat coconut oil on skillet over medium low to medium heat
Scoop 1 heaping tablespoon of batter at a time onto the skillet
Pancakes will form little bubbles, when bubbles open, flip pancakes over and cook other side
Remove from heat to a plate
Repeat process with remaining batter, add more oil to skillet as needed
Don't worry - you can thank me later! You will, promise :)
Ok so...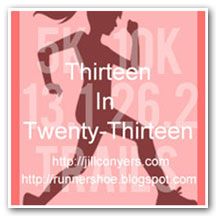 #13in2013
I know you've all been waiting to know what I keep talking about. I have signed up and committed to run 13 races in 2013. I did not pick a set distance, just mixing it up.
Jill
and
Jen
have set up this #13in2013 challenge - and I am SUPER STOKED for the challenge. You have 12 months to get all 13 races in!! My first race will be a virtual 5K today hosted by
Laura
. She is hosting a
#5bythe5th
that will help make sure I have goals to help meet my races! #5bythe5th goes till June so it will give you 6 races in 6 months. I am looking forward to heading out this afternoon and using my sweet new Garmin on my first of my 13 races!!
How are you choosing to #SweatPink today?
I'll post about my run & just got an email from Alycia - the WODs for the Garage Games have been announced - we'll talk about that too :)
~xoxo
M